Wenn man eine SharepointFoundation Seite öffnet, sieht man am oberen Rand folgende Meldung:
"We apologize for any inconvenience, but we've made the site read only while we're making some improvements."
Es gibt unterschiedliche Ursachen für diese Meldung (z.B. ein Backup, das nicht richtig beendet wurde).
Lösung 1:
Ich geht auf den Bereich "Configure quotas and locks", wählt die betreffende Site-Collection vom DropDown-Menü aus und setzt den Punkt bei "Not locked".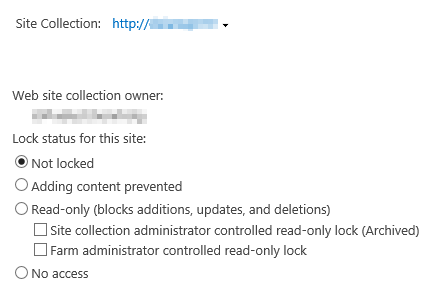 Lösung 2:
Sollten die Punkte ausgegraut sein, kann man das Ganze auch per Powershell lösen:
Die Sharepoint Management Shell als Administrator öffnen und Folgendes eingeben:
$admin = new-object Microsoft.SharePoint.Administration.SPSiteAdministration ("http://sharepoint/sites/mysitecollection") $admin.ClearMaintenanceMode()
Wenn ihr unsicher seid, wie der Name der Sitecollection ist, könnt ihr im DropDown nachsehen:
central admin > application management > Configure quotas and locks